Publisher: Naluda Magazine
Check out our interview with talented actor Jacob Moran who is best known for his role as Billy in the Blumhouse blockbuster "The Black Phone." Since the movie release, Jacob has grown significantly in popularity and is a new teen heart-throb. He also plays Tristan, the lead in "New Shoes" short film that premiered at American Pavilion at Cannes Film Festival on May 24. Tristan desperately needs new shoes, but his mother struggles between feeding her drug addiction and providing for her child. Jacob just wrapped filming a supporting role on Nicole Kidman's highly anticipated new movie "Holland Michigan."
Hi Jacob, please tell us a little about you?
Hi! Thank you very much for having me. The big news of the month is that I turned 16 and got my driver's license, today actually. I was born and raised in Atlanta, GA. Music is what started my desire to perform. My family loves music and either sings or plays an instrument and playing the drums came naturally for me. From there, I went on tour for close to a year and that sparked my love of travel. I am super focused on the television and film industry (in front of and behind the camera). In my free time, I love to be on the lake. Water sports is my favorite hobby for sure.
Describe yourself in 3 words?
Inquisitive, Active and Creative
How did you get started into acting?
I was born into a very creative family who have a strong love of music and theatre. I have been playing the drums since before I was two. That led to different performances and community theatre and I took classes at the Orbit Arts Academy. Once I booked the National Tour of School of Rock, things really took off and it became clear that I wanted to perform.
How has this changed your life?
My entire life changed when we hit the road. The experience didn't just open up professional opportunities, it opened my eyes to a much bigger world. I started spending a lot of time in NYC and once I connected with my agents out there I realized anything is possible. So, today, I work on being a "normal teenager" and balancing what I hope will be my life-long career.
How do you prepare for a role?
I usually prepare for a role by reading the script first. Then, I work backwards and go about memorizing my lines. Once I do that, I start thinking about the backstory of the character. Who are they, what more could we know about them? Once I feel comfortable with who the character is, I like to try different approaches and ways to say things or sometimes try to look at the scene in a way that isn't what I first imagined it to be.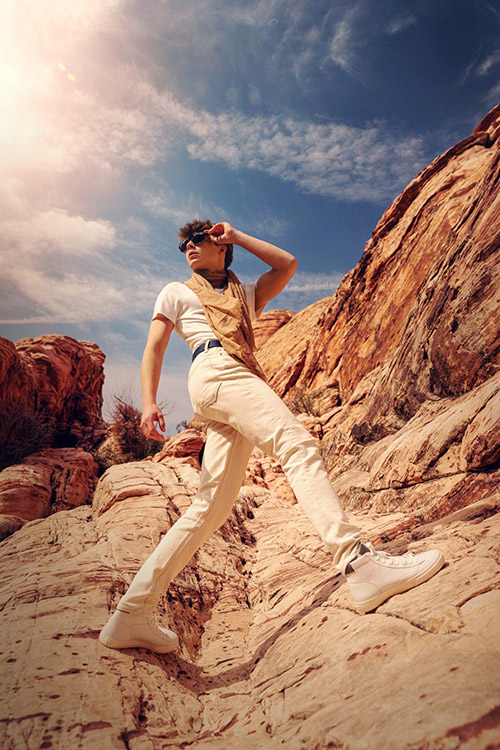 Tell us about your work as Billy in the Blumhouse blockbuster "The Black Phone?"
Filming "The Black Phone" was a dream come true for me. At the time we shot it, I didn't realize what it would become and I actually am glad because that was just an added bonus. Everything about this project was amazing. From the other actors, to the hair and makeup process, to Scott Derickson the director and the crazy basement soundstage, each experience was as great as the next. Even though we don't know that much about Billy, it was a good challenge to have to play him both alive and dead and bring different things to each. Of course, Billy loved his dog and those scenes were always so much fun.
And about your lead role in "New Shoes?"
This is a special film and definitely an experience that will help shape me as an actor. My character Tristan and the film is based on a true story. Tristan's upbringing couldn't be more different than mine and I really had to work hard to figure out a way to connect to this character and way of life. It was hard. I felt a responsibility to tell this story how the director Thommy Kane experienced it. This was his true story and I had to make sure I brought my own vision to it while honoring his childhood experiences. There were some long days and rough moments because the material is so raw.