Atlanta, Georgia native and burgeoning actor Jacob Moran works in both television and film. His current place of residence is New York City, and he has already established a solid reputation through remarkable performances in important projects. Jacob made his acting debut as "Billy" in the critically acclaimed Blumhouse hit The Black Phone in 2022. Before that, he also appeared in well-known TV series like The Wonder Years on ABC and NBC's New Amsterdam. In the years to come, the entertainment industry is predicted to see even greater advancements from Jacob thanks to his talent and hard work.
First of all, it was surprisingly comfortable, which is a huge credit to him. I mean, Ethan Hawke is acting royalty. I feel so fortunate to have been able to watch him work. I was mesmerized watching him stay in character off camera and bring all that intensity to the role you see in the film. He had an impact on me that will linger for the rest of my career. says on working with Ethan Hawke.
By: Andreas Wiseman
Publisher: Deadline
EXCLUSIVE: U.S. financier Mizzel Media has backed its second movie: indie feature Rebel Girl, starring Oscar nominee Amy Madigan (Twice in a Lifetime), newcomer Sadie Jensen-Blank (#Horror) and Erik Jensen (The Walking Dead).
New York-based Mizzel, which earlier this year invested in The Girl From Köln, the next film from Holy Spider and The Tale outfit One Two Films, is overseen by producer and veteran manager Lillian LaSalle.
Rebel Girl, currently filming in Minnesota under a SAG IA, is being helmed by co-writing-directing team Jessica Blank and Erik Jensen with a script co-written by Han Shan.
Interview by: Carol Wright
Photographer: Guido Venitucci
Publisher: Nyota Magazine
Jacob Moran is an actor that should be on everyone's radar. With a role in the hit Blumhouse thriller The Black Phone and his short-film New Shoes having its world premiere at the Cannes Film Festival last month, one can only imagine the milestones he'll hit later in his career. Moran talked to NYOTA about working with Nicole Kidman, playing a character different from himself in New Shoes, and his advice for aspiring actors.
What initially sparked your interest in acting?
I come from a family who loves music and theater. Since I can remember we were dancing and I was playing the drums. This led to local performances and community theater and training at the Orbit Arts Academy. When I was 11, I booked the Broadway National Tour of the School of Rock and that really set my love of performing into motion. While I have since transitioned to a focus on film and television the early foundation of music and live performing definitely set the groundwork.
Who are some of your acting inspirations?
I really have just so many. It is always inspiring to be in the presence of a great actor and watch their style. Ethan Hawke and Nicole Kidman are definitely two that have been incredible to watch work. Matthew McConaughey and Leo DiCaprio fascinate me as well and I think the range of their movies is really impressive.
Do you feel that you grew as an actor after working on The Black Phone?
Absolutely. Anytime I have a chance to work with other talented people I grow. This was also the first major motion picture I had the privilege of being a part of so seeing how that process comes together was exciting.
Tell our readers about your short-film New Shoes. What drew you to the project?
It was very intriguing to play a character so different from myself. Even more interesting was the fact that this is a true story and I knew I would be working with the person who I would be portraying, Thommy Kane. While this was a little intimidating I was up for the challenge and that made me dig deeper into understanding who Tristan really was and how he felt.
New Shoes has a heavy subject matter. How did you get into the headspace for the role?
This is a special film and definitely an experience that will help shape me as an actor. My character Tristan and the film is based on a true story. Tristan's upbringing couldn't be more different than mine and I really had to work hard to figure out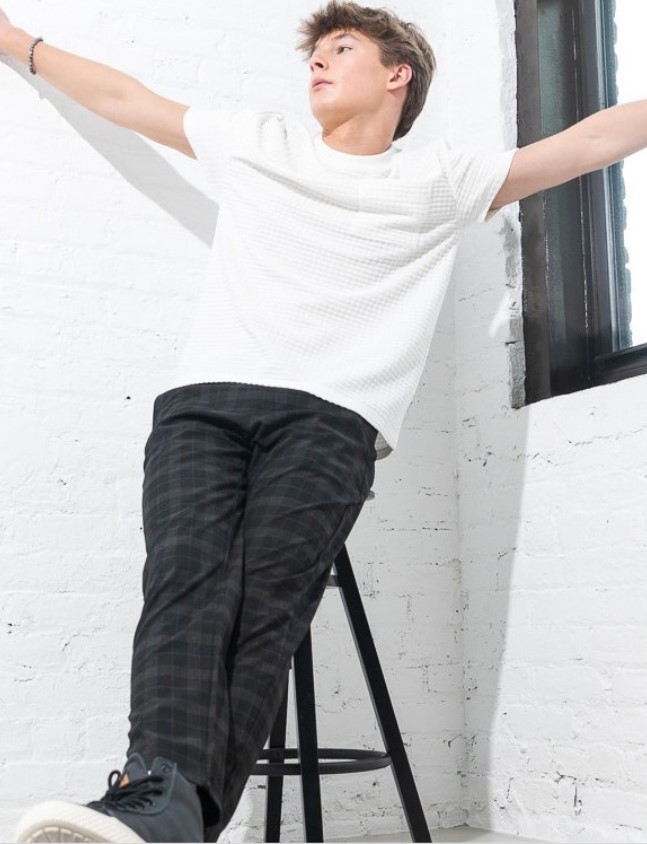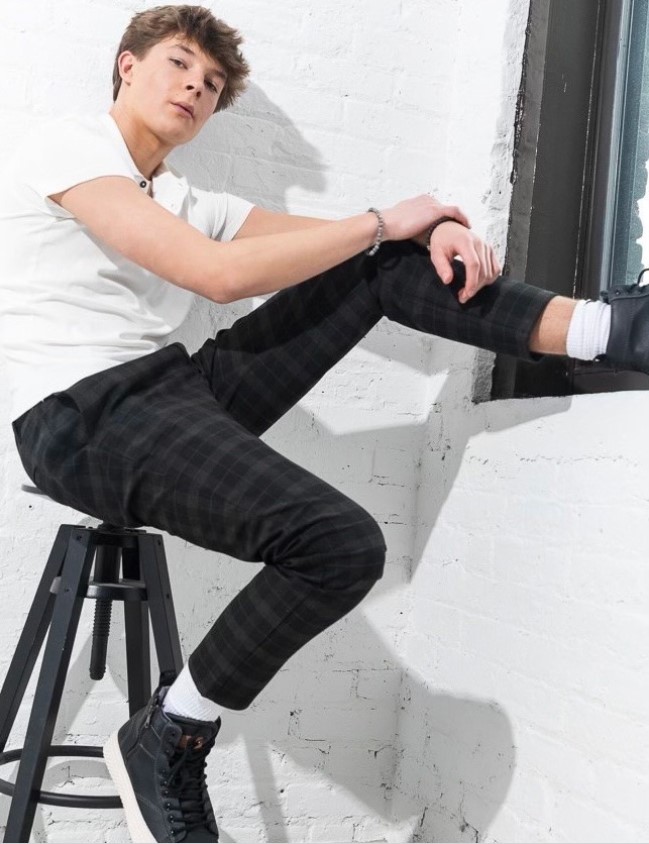 "…keep planting the seeds… If you keep planting one day you get to see it all grow. To me this means building relationships, taking every opportunity that makes sense for you (there are no small parts).."
a way to connect to this character and way of life. It was hard. I felt a responsibility to tell this story how director Thommy Kane experienced it. This was his true story and I had to make sure I brought my own vision to it while honoring his childhood experiences. There were some long days and rough moments because the material is so raw. We filmed in a rundown duplex and it was dirty..really dirty. I had to really focus and being in that environment helped me understand this new reality.
The film premiered at Cannes which is an incredible honor for any actor. How did it feel to have that experience?
The best way I can describe the experience was like being in a movie, only it was real life. If you are a young actor, life myself, I can't think of a more inspiring place to be around so many successful and hardworking filmmakers and actors. To watch our film at the American Pavilion was amazing. It was
the first time we experienced others' reactions to the film and it was well received. It is still hard for me to watch myself on screen but I knew this was a defining moment.
You're currently working on Holland Michigan with Nicole Kidman. Are you learning a lot from her?
Yes. We wrapped the film and it was a great experience. Watching her work was a true honor. She is kind and funny and very engaged. It is an intense story and I loved every minute of it.
What advice do you have for aspiring actors?
The best advice I have for newer actors is keep planting the seeds. This was advice given to me and I will never forget it. If you keep planting one day you get to see it all grow. To me this means building relationships, taking every opportunity that makes sense for you (there are no small parts). Do the work, keep training and love what you do. Don't get me wrong, I get discouraged sometimes, but I come back to the belief that the work you put in today will pay off in ways we don't even know just yet.
Publisher: Naluda Magazine
Check out our interview with talented actor Jacob Moran who is best known for his role as Billy in the Blumhouse blockbuster "The Black Phone." Since the movie release, Jacob has grown significantly in popularity and is a new teen heart-throb. He also plays Tristan, the lead in "New Shoes" short film that premiered at American Pavilion at Cannes Film Festival on May 24. Tristan desperately needs new shoes, but his mother struggles between feeding her drug addiction and providing for her child. Jacob just wrapped filming a supporting role on Nicole Kidman's highly anticipated new movie "Holland Michigan."
Hi Jacob, please tell us a little about you?
Hi! Thank you very much for having me. The big news of the month is that I turned 16 and got my driver's license, today actually. I was born and raised in Atlanta, GA. Music is what started my desire to perform. My family loves music and either sings or plays an instrument and playing the drums came naturally for me. From there, I went on tour for close to a year and that sparked my love of travel. I am super focused on the television and film industry (in front of and behind the camera). In my free time, I love to be on the lake. Water sports is my favorite hobby for sure.
Describe yourself in 3 words?
Inquisitive, Active and Creative
How did you get started into acting?
I was born into a very creative family who have a strong love of music and theatre. I have been playing the drums since before I was two. That led to different performances and community theatre and I took classes at the Orbit Arts Academy. Once I booked the National Tour of School of Rock, things really took off and it became clear that I wanted to perform.
How has this changed your life?
My entire life changed when we hit the road. The experience didn't just open up professional opportunities, it opened my eyes to a much bigger world. I started spending a lot of time in NYC and once I connected with my agents out there I realized anything is possible. So, today, I work on being a "normal teenager" and balancing what I hope will be my life-long career.
How do you prepare for a role?
I usually prepare for a role by reading the script first. Then, I work backwards and go about memorizing my lines. Once I do that, I start thinking about the backstory of the character. Who are they, what more could we know about them? Once I feel comfortable with who the character is, I like to try different approaches and ways to say things or sometimes try to look at the scene in a way that isn't what I first imagined it to be.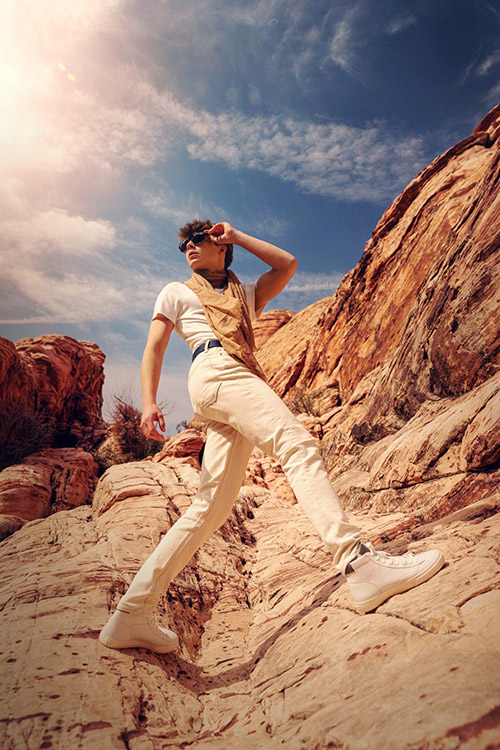 Tell us about your work as Billy in the Blumhouse blockbuster "The Black Phone?"
Filming "The Black Phone" was a dream come true for me. At the time we shot it, I didn't realize what it would become and I actually am glad because that was just an added bonus. Everything about this project was amazing. From the other actors, to the hair and makeup process, to Scott Derickson the director and the crazy basement soundstage, each experience was as great as the next. Even though we don't know that much about Billy, it was a good challenge to have to play him both alive and dead and bring different things to each. Of course, Billy loved his dog and those scenes were always so much fun.
And about your lead role in "New Shoes?"
This is a special film and definitely an experience that will help shape me as an actor. My character Tristan and the film is based on a true story. Tristan's upbringing couldn't be more different than mine and I really had to work hard to figure out a way to connect to this character and way of life. It was hard. I felt a responsibility to tell this story how the director Thommy Kane experienced it. This was his true story and I had to make sure I brought my own vision to it while honoring his childhood experiences. There were some long days and rough moments because the material is so raw.
Publisher: Vents Magazine
1.) We're delighted to welcome to our pages acclaimed
actor Jacob Moran; greetings and salutations, Jacob!
Before we saunter down the celluloid Q& A pathway,
how goes your 2023 thus far?
Hello. Thank you so much for having me. 2023 is off to a
great start. I am about to finish my freshman year in high
school and will get my driver's license in a few weeks. I
was fortunate to work on an amazing feature film, Holland
Michigan, and I am leaving for Cannes next week for the
New Shoes world premiere. Then I will be in NYC to film
Regarding Veronica. I am beyond grateful to be working.
2.) Congrats and kudos on New Shoes which is making
the rounds at no less of a distinguished and fabled film
festival than the American Pavillion at the Cannes Film
Festival! When you first encountered New Shoes did you
ever think of its path ­ and yours! ­ would ultimately lead
you to Cannes?
There is a lot of excitement surrounding New Shoes at the
moment and I am thrilled. We are having our world
premiere at the American Pavilion at Cannes on May 24th
and then right onto the Berkshire International Festival for
our U.S. premiere and deadCenter the following week.
We are getting ready to leave for France this week and
while I don't really know what to expect I know it will be an
incredible experience. So, no I don't think I had any idea
of what direction we would be headed in when we filmed
a year and a half ago. But I have always believed in this
project and the passion behind the story.
3.) For anyone not in the know, can you tell us what New
Shoes is about and how your character of Tristan figures
into the proceedings?
New Shoes is about the troubling relationship between a
young boy (Tristan) and his drug­addicted mother. Elaine
(Tristan's mom) supports both her son and her habit the
only way she knows how. Tristan, protects her the only
way he knows how, on the front porch with his trusty brick.
After telling Tristan she plans to spend her recent payday
on her next fix, he reminds her again that he needs new
shoes for school. Elaine angrily decides to burden her son
with the guilt of placing herself in harm's way in order to
provide him with the shoes.
Tristan always tries to be supportive but also feels very
guilty. The overwhelming remorse he feels prevents him
from going through with buying the new shoes, only to
return home to find his mother bleeding out from an
attempted suicide. After saving her life, Tristan is forced to
examine his own life and decide whether or not he wants
to continue to be her savior, or to save himself.
The really powerful part is this is based on a true story.
The life of Thommy Kane who also co­directed the film. It
is raw and real and just a glimpse at what the feature film
will look like as Thommy's journey took place over many
years until he found great success as a signed recording
artist and sadly lost his mother, Elaine.
4.) Did you know as soon as New Shoes entered into your
orbit that this was a production you wanted to be a part
of?
I knew I was attracted to the concept. However, at first it
was a lot of really heavy topics for me and it took me a
while to get comfortable. There was the uncertainty of
portraying a real person and trying to be my own
character while also honoring Thommy's truth and raw
emotions. I had not taken on a role like this before and
had not been exposed to drug use or abuse so I had to
completely detach from "Jacob" in order to become
"Tristan."
5.) What was your collaboration process like with New
Shoes directors Thommy Kane and Bojan Vanovac? Are
they what some actors might refer to as "an actor's
director"?
They are totally both "an actor's director." Aside from
being super cool people they are extremely talented and
both brought a totally different perspective to the film.
Bojan has a successful background in producing very cool
music videos among other great things and brought a
visual sense and calmness to the set. Thommy lived this.
It is his life so he was able to provide insight to real
emotions to give me a better understanding of the
backstory and how he felt as a little boy. We actually had
a blast filming. After we wrapped and as tired as we all
were we had an impromptu cast party in the duplex we
filmed in and I can tell you there were a lot of laughs and
unbelievable excitement to start editing right away, even
during the party. The team was great. It is amazing that
we packed so much into a 20 min short. I can only
imagine how powerful the feature will be.
By: Grace Lee
Publisher: Young Entertainment
Has anyone re-watched The Black Phone as of late? If you haven't, what about New Amsterdam or The Wonder Years? For those curious as to why those were mentioned, it's because we have an exclusive interview with Jacob Moran! We can't wait to talk to Jacob about his role as Billy, his thoughts and experience with the show and cast members, and more. Because The Black Phone will be more mentioned compared to Jacob's other roles, and because the film was eventually universally released in 2022, there will be light spoilers in this article. While there will be light spoilers, there will be no explicit spoilers for those who haven't watched the movie. For those who haven't watched it and still wish to, we highly recommend watching The Black Phone first before reading this article. And now, onto this interview and its refresher.
Click here or scroll down to the bottom of the page to find the YouTube video
For those who weren't aware, The Black Phone is a supernatural horror movie that premiered on Fantastic Fest on September 25th, 2021. It was universally shown in theatres by Universal Pictures on June 24th, 2022. This film featured the ever-talented actors/actresses that you'll recognize from other sources of media. This includes Ethan Hawke, Madeleine McGraw, Jeremy Davies, Mason Thames, James Ransone, and our interviewee Jacob Moran.
The Black Phone tells the story of siblings Finney and Gwen Blake. They become involved with a serial child abductor and murderer called The Grabber. To best summarize what's going on in the film without explicit spoilers, Finney was kidnapped by The Grabber. He then tries to escape with the assistance of The Grabber's previous victims, who are now dead, through a broken, rotary phone. The film's release was highly successful from a critical and commercial view, grossed to at least $161.4 million. The film was highly praised for staying faithful to its source material, stunning performance, and screenplay.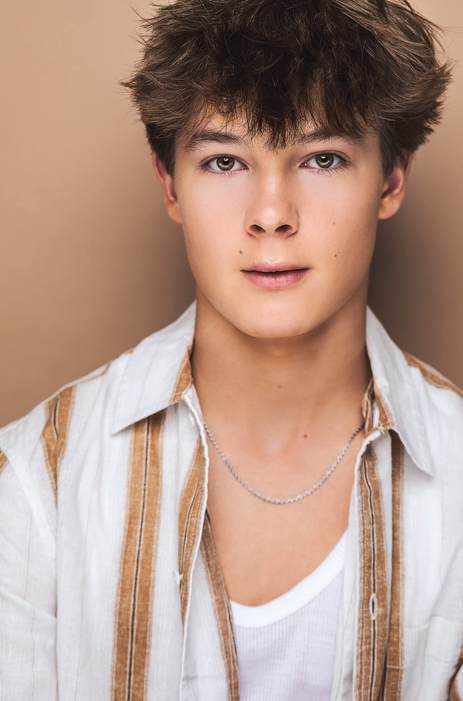 Moving onto the inspiration, did you know that the film was based on a short story? The author Joe Hill wrote a book titled 20th Century Ghosts. It is a collection of short stories that was released in the United Kingdom on October 2055, eventually having an international release to the United States on October 2007. The book won several awards, ranging from the Bram Stoker Award for Best Fiction Collection and the British Fantasy Award for Best Collection and Best Short Story. They even made audiobook versions of the stories.
As for the short story, the story went by the same name. The Black Phone, the short story, remains the same. Finney has been kidnapped by The Grabber. His only means of escape is through the disconnected, black phone that carries the whispers of the kidnapper's previous victims. As mentioned before, the film stayed faithful to its inspiration.
Publisher: Authority Magazine
Go for No — Each "no" response you get brings you one step closer to the "yes." I wish I knew from the first audition that you most likely won't book the role. Not that you shouldn't always do your best, but remember that just one person gets the job, and you never know what casting and producers are looking for. When the phone does ring with the yes, you won't be expecting it and man, is that a great call!
As a part of our series about pop culture's rising stars, we had the distinct pleasure of interviewing Jacob Moran.
Jacob Moran is best known for his role "Billy" in the Blumhouse blockbuster feature film, The Black Phone. He also has a lead role "Tristan" in the upcoming 2023 short film, New Shoes (newshoesfilm.com). Jacob has also recently had roles on NBC's New Amsterdam and ABC's The Wonder Years. Jacob's passion for performing and music began when he was very young. After having performed in over 50 shows as the lead drummer, Jacob took to the theater stage and toured with Broadway's School of Rock for over 300 performances in the U.S. and Canada. Jacob has several passions outside of acting including scuba diving, wake surfing, mountain biking, playing pickleball, and having fun with his friends. Jacob is a high school freshman and resides in Atlanta, GA with his family.
Thank you so much for joining us in this interview series! Can you tell us the story of how you grew up?
Thank you so much for having me! Well, I am definitely still growing up. I'll be sixteen in June. It is pretty wild to think about all that I have done so far and really, I am just getting started. I was born and raised in Atlanta, GA. It's a great place to live and work. Since I could walk, I have been banging on the drums and music has always been a big part of our family. My dad is also a drummer and my mom loves to sing. Our family is really close. From my siblings to my grandparents to our cousins, aunts and uncles, we spend a lot of time together. We celebrate pretty much everything together and I love that. I go every summer to stay with my grandparents in Florida for a week. My grandfather helped me get scuba certified down there and that was awesome! They have been very supportive and influential in my life. Growing up really changed when we lived on the road for a year. Our family has always loved to travel, but touring was different. I had just turned eleven and as a family we had to figure out how to travel to 33 cities in the U.S. and Canada. I know this was challenging for my family and yet, somehow we pulled it off. I grew up pretty fast with all of the responsibility of a full time job, managing school, music and acting lessons and moving every week. But, I wouldn't trade that experience for anything. So far, growing up has been pretty amazing!
Can you share a story with us about what brought you to this specific career path?
I remember this day like it was yesterday. My mom and I were in NYC for my 10th birthday. We saw Hamilton and then The School of Rock. I turned to her when the show was over and said that is what I want to do. I want to be on that stage playing music and rocking out like that. If you know my mom, she puts things into action and we made this a goal. I auditioned that year for the School of Rock, but I didn't get the part. A year later, I
auditioned again and found myself at callbacks in Orlando, FL and then another one in NYC. In July of 2019, we packed our bags and headed out to California where I started the year long journey on the road with the Broadway National Tour. It was awesome!
Can you tell us the most interesting story that happened to you since you began your career?
I really find the business and people I meet fascinating. Being on the road and in so many cities, I was able to do things I had never done before. Probably one of the most interesting experiences was flying a seaplane over Lake Coeur d'Alene in Idaho. The pilot switched places with me and I took control of the plane for quite a while. That feeling of freedom and flying really inspired me, and as a result, I am working towards my pilots license. I just built a flight simulator in my room.
One other interesting story is the time I spent in the makeup trailer while filming The Black Phone. In most of the scenes I was dead, so I had to look dead. It was pretty creepy. Each day I would head to the makeup trailer for a three hour process of hair and makeup. The process included adding an extension in my hair and a lot of prosthetics on my face and neck to create the gashes. The makeup team was some of the best in the business, and the stories they shared and techniques they showed me were so amazing. The first time I met Ethan (Hawke) was actually in the makeup trailer. He was getting his mask put on and that was a fascinating process to watch, too. It is unbelievable just how much goes on behind the scenes to make it all come together.
It has been said that mistakes can be our greatest teachers. Can you share a story about the funniest mistake you made when you were first starting? Can you tell us what lesson you learned from that?
Very early in my career, one of my first short films, we had to film this scene where I was hit in the head and I fell on the ground. When we were filming the shot of me on the ground, the camera was about 2 inches from my face and for some reason I couldn't get into character and kept laughing, literally non-stop laughing. It was awful because I knew how unprofessional it was but I just couldn't seem to stop. This was a great learning experience for me because as I filmed more projects, it helped me learn how important it is to stay in character and forget about where the camera is during a scene.
What are some of the most interesting or exciting projects you are working on now?
A few exciting things are happening. Newshoesfilm.com where I play the lead, "Tristan," is hitting the festival circuit this year and I am filming two other new projects this year that I can't talk about yet… but can't wait to tell you all about them, I hope soon!
By: Amanda McArthur
Publisher: Sweety High
15-year-old Jacob Moran may be young, but the actor, musician and performer already has a resume that would put many twice his age to shame.
In 2021, he starred as Billy in the blockbuster horror film The Black Phone alongside Ethan Hawke, and last year, he made TV appearances in both New Amsterdam and The Wonder Years, on top of a role in the film Fragile Heart. Jacob is also an accomplished guitarist and drummer as well as a stage performer, touring with Broadway's School of Rock for more than a whopping 300 performances across North America. Even though he's done it all, he's just getting started, and here's everything he shared about himself as our latest Man Crush Monday.
Name: Jacob Ian Moran
Hometown: Atlanta, Georgia
Birthday: June 2, 2007
Fun Facts
1. Jacob's obsessed with planes. He's even training to get his pilot's license!
"Since I could walk, I had to go in every cockpit of every plane on every single flight. I have dreamt of flying a plane since I can remember. I flew with a co-pilot in a seaplane over Lake Coeur d'Alene in Idaho and I just finished building a flight simulator in my room."

-Jacob Moran
2. If he could steal any character's fictional style, it would be John B from Outerbanks.
"Since binge-watching the show during the pandemic, I totally connected with his character and the boating, fishing and surfing lifestyle. You can't really beat that!"

-Jacob Moran

https://www.instagram.com/p/CotU_a0rMb2/?utm_source=ig_embed&utm_campaign=invalid&ig_rid=449d3956-744c-41ab-8036-97d7062d7637
3. The No. 1 thing on his bucket list is to see the world—every last country.
Also read about: Everything You Wanted to Know About 'flight attendant' Singer-Songwriter Haiden
4. He's very much looking forward to his birthday this year on June 2.
"I am turning 16, and in addition to my plane and boating addiction, cars are also my thing. I basically love all motorized vehicles—anything I can sit in that moves. I cannot wait to get my car and drive on my own!"

-Jacob Moran